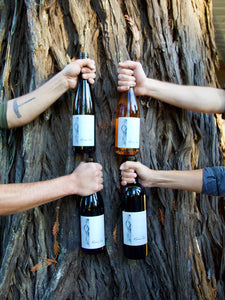 Our Story
Founded by Kyle Jeffrey, Brad Jonas, and Miriam Jonas, Minus Tide is focused on making elegant, balanced wines that showcase the distinct, coastal, and rustic vineyards of Mendocino, California. Shrouded in towering old-growth redwood trees, the winegrowing region of Mendocino County is influenced by the fog and cool air that drifts inland from the Pacific Ocean. We work with sustainable and organic vineyards to respect the land now and for the coming generations. In the cellar, we use minimal intervention practices and currently produce Chenin Blanc, Chardonnay, Pinot Noir, Carignan, and Syrah. Our goal is to make wines we love to drink and that pair well with food, so they tend to be high in acid and low in alcohol. We are thrilled to share them with you.

Minus Tide was founded in 2017, but the dream began long before that. The Minus Tide trio met while attending Cal Poly, San Luis Obispo, in 2007. We talked about someday starting a winery, and as time went on, we worked on turning this dream into a reality. In 2015, we made a single barrel of Malbec from one of our favorite vineyards in California, Alder Springs. From there, our journey began.
About Us
vineyards
All of the vineyards that we work with reside in Mendocino County, a region on the coastline of the Pacific Ocean that is laden with redwood trees, vineyards, apple orchards, and sheep pastures. It is an idyllic, rustic, and often rugged area, with an incredible diversity of growing regions and microclimates. Many of the vineyards here are remote and tucked-away gems, bursting with possibility.

We work with vineyards that are farmed organically and sustainably. While each site is uniquely its own, they all capture elements of the region that we love—distinctiveness, high natural acidity, intensity of flavor, and cool-climate balance. We strive to express the beauty and character of these special sites in our wines.
learn more